| | |
| --- | --- |
| | IF YOU WOULD LIKE TO SHOW YOUR APPRECIATION FOR THIS SITE, PLEASE MAKE A DONATION. It'll only take a minute or 2 of your time and it'll encourage me to continue updating this site. Thank you. I'm a poor college student. Violins please.Getting well over 6,000 visitors a year, it would seriously cover the hosting bill if each of you donated as little as a penny! :-) (Though, naturally, you're encouraged to give more :-D ) |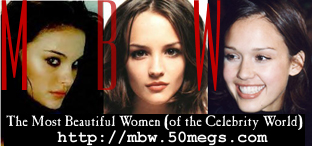 SITE HISTORY
---


Site established on AUG 26, 1999 on Tripod.



*UPDATED DECEMBER 12, 1999 (check out pages 9 & 10)- In time for Christmas & the New Millenium. Here are some more worthy women that I have come across, and that some of you [my fans] have suggested. They are not in any particular order so use your imagination as to where they should be placed. It would be way too much work right now to change the order of 104 women across 10 pages. Thanks again for visiting. (Added- Laëtitia Casta, Mandy Moore, Jennifer Aniston, Ashley Judd, Tyra Banks, Rebecca Romijn-Stamos, Lisa Cerasoli, Brittany Daniel, Christina Aguilera, Jessica Biel, Shiri Appleby, Leah Remini, Stacy Dash, Shannon Elizabeth, Maureen Flannigan, Kathy Ireland, Carmen Electra, Jenny McCarthy, Elizabeth Hurley, Nicole Kidman, Leigh Nash, Merritt Hickks. New pics of Katie Flynn & Sandra Bullock)



*Updated again on: Dec 24, 1999, & Jan 24, 2000 (Added- Heather Paige Kent, Faith Hill, Liz Vassey, Larisa Oleynik, Megan Dodds, Kathy Evison, Dominique Swain, Jodie Sweetin, Amy Jo Johnson, Bridget White, Gina Gershon, Allison Smith, Shay Astar, Carla Gugino, Mari Morrow. New pics of Tyra Banks, Colleen Fitzgerald, Elisabeth Harnois, and Julia Roberts.)



*Updated April 3, 2000- Well, the long awaited revamp has now taken place. I've taken the 80 or so original beauties & the 40 or 50 add-ons and reranked them all- all 125 of them. I've also added a new directory at the bottom of each page revealing where everyone is located. This feature ruins the suspense of who is where but it makes everyone a little easier to locate. Have fun! (Added- Krista Allen, Gisele Bundchen, Lindsey McKeon, Irčne Jacob, Mindy Clarke, Danielle Fishel, Lucy Liu)



*Updated June 17, 2000- What a massive undertaking! I updated the site again with 12 new beauties (Jessica Alba, Kerry Butler, Anna Kournikova, Kaley Cuoco, Kimberly McCullough, Amber Tamblyn, Cindy Crawford, Victoria Rowell, Jules Asner, Halle Berry, Emma Caulfield, and Katherine Heigl), got new information on the 125 women already on the site, got a pic of Bridget White, a new one of Alyssa Milano, rearranged the order, added some new features, and placed the site on 3 new hosts! The site has had 52,285 hits since it's creation, and it hasn't even been around a year yet. The one year anniversary is rolling around in 2 months (and 9 days) and I expect it to continue to grow in popularity.



*Updated August 19, 2000- Well, this is the last time the site will be updated before it's 1st birthday on August 26. It's probably also the last time it will be updated for a couple of months as I start my Sophomore year of college in September and don't know how much free time I'll have on my hands.

What better way to celebrate the site's birthday but to have the BIGGEST number of inductees ever? This time around 44 new beauties were added and I got 47 replacement pics (better and/or more current) for girls already on the site. Once again, I reranked the women- ALL 180 OF THEM!!!

In the future, I will probably not rerank the beauties after new ones are inducted.... there are getting to be too many to do so without the hassel of redoing every single page... So from now on, inductees will most likely just be added on the last page perhaps with a comment as to where I think they should be placed.

And being that there are now so many, I got rid of the Location Table (which told you who was on each page) and replaced it with and Alphabetical Table (by first name) so you the viewer can find who you're searching for with more ease. On the Recommendation page, I have added a new field of interest- EDUCATION. Because it's Beautiful & Sexy for celebrities to further their education and attend college.

Also, being that the sites birthday is approaching, I thought it might be fun to have a Most Beautiful Women Birthday Calender Table. And so, I added that as well. On a sad note, one candle was forever blown out. In the beginning, I believed that if I added someone for whatever reason, that I had the obligation to keep them on the site forever. However, after updating the site many times and wondering why I ever placed her on the list to begin with, I have removed Laura San Giocomo.

Who may be in danger the next time I update? Alicia Silverstone. Her whole new Vegan thing, in part started so she'd loose weight, has made her into a skeleton. I think she looked fine how she used to be, which is certainly better than she does now. When this site first opened, she was ranked 39. Now, as you can see, she's 179! I'll probably let you viewers decide her fate in the poll at the bottom of each page, (which you voted to keep on the site).

One other new thing you may notice is that I branded some pictures (18 in all). Why did I do this? Well, I think I deserve some credit. I'd say a good 99% of the pictures on this site, I have time consumably edited to give you one of the best pictures around of each individual. Now I haven't branded all 180 of them, cause let's face it, I find site names and logos on pictures just as annoying as you do. Of the 91 new pictures on the site, I have discreetly branded the 18 I worked the longest on- collages. However, just because I branded these collages doesn't mean I'm taking credit for the individual pictures themselves. I obviously didn't take them myself (as I don't know even 1 celebrity, let alone 180 of them), so the rights are reserved to those individuals that did (whom ever they may be).

And now, without further adieu, the beauties that have been added:

Viewer recommendations ~Models, Singers, & Actresses~ (8)- Adrienne Frantz, Beyonce Knowles, Jordana Brewster, Ashley Lyn Cafagna, Ivanka Trump, Rachel Stevens (you recommended the girls of S Club 7 in LA, I singled out her), Charlize Theron, and Amanda Bynes

Models (6)- Adriana Sklenarikova, Niki Taylor, Charlie O'Neale, Rachel Hunter, Elle MacPherson, and Fernanda Tavares

Singers (3)- Shania Twain, Alecia Elliott, Mya Harrison

Reality Shows (4)- Survivor's Colleen Haskell, Jenna Lewis, & Kelly Wiglesworth, and Road Rules 6's Piggy Thomas

Actresses (21)- Allison Mack, Cameron Richardson, Lacey Chabert, Elisabeth Shue, Leonor Varela, Megan Ward, Sarah Brown, Jennifer Connelly, Kelly Preston, Kimberly Williams, Tess Daly, Gretchen Mol, Rena Sofer, Kelly Hu, Jaime Pressly, Olivia d'Abo, Teri Polo, Marla Sokoloff, Garcelle Beauvais, Moira Kelly, and Mary-Kate Olsen

Other (2)- Loveline co-host Catherine McCord & Man Show juggy Vanessa Kay

Replacement pics (47)- Alicia Witt, Alicia Silverstone, Alyson Hannigan, Anne Heche, Ashley Judd, Britney Spears, Carla Gugino, Carmen Electra, Catherine Zeta-Jones, Christina Aguilera, Christina Applegate, Christina Ricci, Christine Taylor, Claire Danes, Drew Barrymore, Denise Richards, Elizabeth Berkley, Elizabeth Hurly, Faith Hill, Gisele Bundchen, Gwenyth Paltrow, Geri Halliwell, Halle Berry, Heather Graham, Holly Marie Combs, Jennifer Love Hewitt, Jenny McCarthy, Jeri Ryan, Jules Asner, Kathy Ireland, Katie Holmes, Kirsten Dunst, Laëtitia Casta, Leelee Sobieski, Liv Tyler, Mandy Moore, Mary-Louise Parker, Michelle Williams, Natalie Portman, Neve Campbell, Portia deRossi, Rebecca Romijn-Stamos, Rose McGowan, Sarah Michelle Gellar, Shannon Elizabeth, Shawnee Smith, and Tiffani-Amber Theissen





*Updated January 25, 2001- Well, before I left college for my winter break, I thought I had figured out who was going to be added (25), who was going to be removed (5), and the order in which they'd appear. That would have made the list size 200 and I thought I'd have had the update done right around my 20th birthday. I figured wrong.

What happened was I wasn't satisfied with the poster I made on power point (which visually helps me with the ranking process). Going back I decided that this was a time of cleansing... 40 girls were to be retired (plus another 2 I thought I was going to be adding to the site). To be added- 30, and replacement pics 47.

Those who have been added:

Viewer recommendations ~Models, Singers, & Actresses~ (4)- Gwen Stefani, Jacinda Barrett, Jennifer O'Dell, Thalia

Models (5)- Angela Lindvall, Arzum Onan, Bridget Hall, Daine HeidKruger, Yamila Diaz Rahi

Singers (3)- Adrienne Bailon, Lisa "Left Eye" Lopes, Louise Nurding

Reality Shows (1)- Kathryn (from The Mole)

Actresses (17)- Ali Landry, Alicia Coppola, Holly Brisley, Holly Valance, Jaime Bergman, Jessalyn Gilsig, Jessica Morris, Kari Wührer, Kelly Brook, Lark Voorhies, Linda Blair, Lindsay Sloane, Lisa Jakub, Michelle Trachtenberg, Monica Bellucci, Rashida Jones, Traci Bingham

Replacement pics (47)- Ashley Lyn Cafagna, Alyson Hannigan, Amy Jo Johnson, Anna Kournikova, Allison Mack, Alysa Milano, Brittany Daniel, Britney Spears, Collen Fitzpatrick, Calista Flockhart, Colleen Haskell, Charlize Theron, Catherine Zeta-Jones, Daisey Fuentes, Emma Caulfield, Elle MacPherson, Elisabeth Shue, Faith Hill, Halle Berry, Jessica Alba, Jessica Biel, Jenna Elfman, JaimePressly, Kelly Hu, Kristy Swanson, Laëtitia Casta, Lacy Chabert, Lauren Holly, Larissa Oleynik, Leah Remini, Mädchen Amick, Melanie Brown, Moira Kelly, Meridith Monroe, Meg Ryan, Neve Campbell, Portia deRossi, Paula Marshall, Rebecca Gayheart, Rachael Leigh Cook, Shirri Appleby, Stacy Dash, Sarah Michelle Gellar, Sarah Paulson, Tiffini-Amber Thiessen, Victoria Beckham, Winona Ryder





Updated March 10, 2001- The purge continues. Another 21 voted off the island that is my site, and only one addition. Also added some replacement pics.

Reality Shows (1)- Elisabeth Filarski (from Survivor II: The Australian Outback)

Replacements (3)- Brooke Langton, Holly Marie Combs, Jessica Morris, Kimberly McCullough, Lindsey McKeon, and Sarah Michelle Gellar



Updated April 14, 2001- In the attempt to make the site look more professional, it has been given a face lift while keeping with it's original personality. First, all pictures have been thumbnailed in an effort to drastically cut down on download time and enhance the viewer's experience. The pictures' dimensions have also been incorporated into the code in order to keep the page from "jumping" every time a new picture starts to download. A convient side menu has been added for easy accessability to the website's different pages (though the host side banners throw it off, and so it does not look how I intended). The "Previous," "Next," and "Home" text links at the bottom of each page have been replaced with buttons. And finally, I designed a logo for the site which might I add looks pretty damn good.

One new beauty has been added, and one has been retired. There are a couple of replacement pics as well.

Actress (1)- Sydney Tamiia Poitier

Replacements (6)- Adrienne Bailon, Beyonce Knowles, & Natalie Portman

Retired (1)- Danielle Fishel



*Updated August 15, 2001- In another 11 days the site will be turning 2 years old. In that time, the site has been updated 10 times with some massive renovations of the original. Many girls have been added (as well as taken away). The site has also had close to 100,000 hits from all 4 host sites (Tripod, 50megs, Geocities, & Hotbot). The Hotbot version is no longer in existence due to Hotbot closing down all their members homepages. On Geocities, I've just left the gateway to my sites. Both remaining sites continue to be updated.

This update, 2 girls have been RESURRECTED, 13 have replacement pics ,and another 12 girls have been retired. Next update expect yet another 20 to leave. I more or less already know who's going but didn't come to the decision till after I was just about done with all the coding and don't want to go back & redo it right now. *Well, I decided I couldn't wait till November/December to retire the next 20. So, a total of 32 have been retired. In the future, in my perfect world, another 20 will go...

Why are there so many being retired?... It's simple, I'd like to get the list back down to a RESPECTABLE 100. Next update, I'm also toying with the slight possibility of adding Destiny's Child's Kelly Preston, Australian model Sarah Jane, Greek model & Miss Greece 2001 Evelina Papantoniou, and French model Jennifer Lamiraqui. I have to come across a couple more pics of the latter 2 to make my decision. If you think they should be added, let me know (But what are the chances of you reading the site's history, anyway? I know I don't usually read that crap on other sites... hahaha).

Resurrected (2)- Jennifer Connelly, Nicole Kidman

Replacements (12)- Ashley Judd, Alicia Witt, Beyonce Knowles, Elizabeth Hurley, Gwenyth Paltrow, Jennifer Aniston, Kimberly McCullough, Leelee Sobieski, Merritt Hicks, Mary-Kate Olsen, Mary Louise Parker, & Yamilla Diaz

Retired (12)- Adrienne Bailon, Amanda Bynes, Angela Lindvall, Catherine McCord, Charlie O'Neale, Gina Gershon, Holly Valance, Irčne Jacob, Ivanka Trump, Jacinda Barrett, Jaime Pressly, Jessica Morris, Jordana Brewster, Kari Wührer, Kathy Evison, Kathyrn Price, Kelly Brook, Kelly Hu, Kerry Butler, Krista Allen, Lark Voorhies, Leonor Varela, Linda Blair, Lisa Cerasoli, Lisa Lopes, Liz Vassey, Maureen Flannigan, Piggy Thomas, Rena Sofer, Sarah Brown, Traci Bingham, Victoria Rowell





*Updated July 12, 2002- It's been a busy year for me and, as a result, it's almost been as long since an update. . . But rest asure, I went all out to make up for it (taking about a month to complete). First, I'm now paying for the site and don't have any of the intrusive banners free sites are known for. However, you are now encouraged to make a donation to me through PAYPAL to help keep running the site. :-) Second, I redesigned the layout. It's more compact and neatly packaged with pictures to the left and info to the right. Third, I re-researched ALL the 120 women that were on the site to get up to date info and pictures. I obtained 40 replacement pictures. Fourth, 13 women were retired in my continuous effot to get the list down to a respectable 100 (10 to go). And fifth and finally, 3 were added.

A brief explanation on Britney Spear's new ranking. She went from 9 to 108. I still think Britney is incredibly hot and has a cute personality. And if the ranking system were based on sex appeal alone, she'd still be in the top ten. I was in the car with some friends listening to the radio back in October or November. On one of the stations was what I thought were the DJ's making fun of Britney, impersonating her, making her sound really dumb. To my horror, I soon found out it actually was Britney participating in the interview. She sounded incredibly stupid. To be beautiful, you need the whole package- beauty and BRAINS. If I had updated the site back then, she would have been kicked of the list for sure. But, over half a year passing since, I didn't have the heart to put her out to pasture this time around. However, if I do hear anything like that again, she will be gone for good.

I finally did let Elisabeth Harnois go. She's been on since the beginning, and has been kept till now for political reasons. You see, Disney Publicity had contacted me over her appearance. However, last year I saw a recent performance of hers and was no longer all that impressed. I left her on simply because of the connection that I hoped to maintain, and was afraid I might lose. But this time around, I uncovered more recent work and decided it was time for her to retire no matter what. That and the fact that I haven't heard from that contact in over 2 years.

I also briefly toyed with the idea of adding Amy Smart and Tara Reid. I decided to pass. At least for the time being anyway.

Can't forget to mention- in a month and some change, the site will be celebrating it's 3RD BIRTHDAY!

New (3)- Kate Beckinsale, Marisa Tomei, and Samantha Mumba

Replacements (40)- Allison Mack, Allison Smith, Alyson Hannigan, Arzum Onan, Beyonce Knowles, Britney Spears, Christina Aguilera, Christine Taylor, Colleen Haskell, Elizabeth Filarski, Elle MacPherson, Faith Hill, Fernanda Taveres, Gwen Stefani, Jennifer Aniston, Jennifer Connelly, Jennifer Love Hewitt, Jessica Alba, Jessica Biel, Kimberly McCullough, Kirsten Dunst, Kristy Martin, Lacy Chabert, Leah Remini, Lindsay Sloane, Lucy Lui, Maria Bello, Megan Dodds, Meredith Monroe, Michelle Trachtenberg, Monicca Bellucci, Mya Harrison, Natalie Portman, Nicole Kidman, Portia deRossi, Sandra Bullock, Sarah Michelle Gellar, Sydney Penny, Tyra Banks, & Yamilla Diaz

Retired (13)- Adrienne Frantz, Bridget Hall, Charlize Theron, Daine Heidkruger, Elisabeth Harnois, Gretchen Mol, Holly Brisley, Jeri Ryan, Louise Nurding, Marla Sokoloff, Natalie Imbruglia, Rebecca Gayheart, Vanessa Kay
---

MAIN
---

Disclaimer: The content on this page expresses the opinions of Frederick William Springer III (and him alone) and are not necessarily those of the celebrities therein or their representation. He is in no way related or connected to them (unfortunately). Now, for those of you who actually needed that posted, GET A LIFE!!!
Copyright © 1999-2003, Frederick William Springer III