| | |
| --- | --- |
| | IF YOU WOULD LIKE TO SHOW YOUR APPRECIATION FOR THIS SITE, PLEASE MAKE A DONATION. It'll only take a minute or 2 of your time and it'll encourage me to continue updating this site. Thank you. I'm a poor college student. Violins please.Getting well over 6,000 visitors a year, it would seriously cover the hosting bill if each of you donated as little as a penny! :-) (Though, naturally, you're encouraged to give more :-D ) |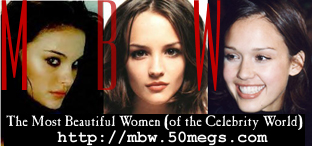 ---
The name says it all. Here I have taken the very hard task of taking these 110 beauties and ranking them. As you will soon see, some of the pictures don't do the women justice (i.e. Allison Mack) but I was unable to obtain any better... on the other extreme, some of the pictures may make the women seem prettier than they really are. In the process of this project, I may have been more generous in my ranking of some and less generous with others. I apologize. (Listen, the ranking is MY personal opinion. There are some of you that'll agree with me for the most part, and those of you that won't. For those of you that don't, the list is in Random Order. Enjoy!)

The decision to place these woman on the most beautiful list was not based on looks alone. PERSONALITY, CHARISMA, and the OVERALL WAY THEY CARRY THEMSELVES were also factors. Some of the facts I gathered may be incorrect, so if you know a correction to be made or something more to add please contact me.

Ranking 25 women can be difficult, let alone 110 (you try it some time!). And although beauty was based on numerous factors, let's face it... the pictures can weigh in heavily. Seeing someone more recently in a movie, TV show, or talk show, or reading an interview with them in a magazine can effect the ranking process positively or negatively. Some of the girls I haven't seen or heard of for a long time, forcing me to rely on the little I may remember. Sometimes it's enough, sometimes it's not. No, it's not completely fair. But neither is life, so get over it. The site keeps changing. Beauties from the back move forward, women from the front move back... the girls are just jumping all over! The only constant on this site is #1.

Also, the ranking does not suggest the order in which I'd go out with these women either (except, of course, for #1). If any of the women on this list visit, and are available, keep in mind that I'm also single. ;-) You can write to me at AnotherPretender@aol.com and view a pic of me HERE. Well, enough of me and onto the list. Enjoy :-)

P.S. Another note to the ladies on the list, if you visit PLEASE SIGN THE GUESTBOOK (and/or email me).


P.P.S. For any of the visiting agents of these talented individuals, feel free to send up to date info and pictures. Also... I'm a screenwriter (horror) without representation and looking for an agent myself.

Fred Springer
GATEWAY TO FRED'S SITES My college sites, original homepage, & my screenplays

Established AUGUST 26, 1999. Last updated July 12, 2002

---
NOW, CLICK HERE TO BEGIN YOUR VISUAL JOURNEY INTO THE MOST BEAUTIFUL WOMEN (OF THE CELEBRITY WORLD).