| | |
| --- | --- |
| | IF YOU WOULD LIKE TO SHOW YOUR APPRECIATION FOR THIS SITE, PLEASE MAKE A DONATION. It'll only take a minute or 2 of your time and it'll encourage me to continue updating this site. Thank you. I'm a poor college student. Violins please.Getting well over 6,000 visitors a year, it would seriously cover the hosting bill if each of you donated as little as a penny! :-) (Though, naturally, you're encouraged to give more :-D ) |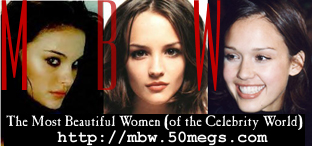 RECOMMENDATIONS
---


Feel free to email me any suggestions at AnotherPretender@aol.com. If you do, please also attach the girl's picture & some of the following information, the most import being those 4 in ITALICS>:



Name:
Nicknames:
Birthdate:
Birthplace:
Hometown:
Lives:
Eating Habits: Vegetarian
Nationalities:
Religion:
Education: (Beyond high school)
Marital Status:

Eyes:
Hair:
Height:
Weight:
Bra/Stats:
Shoe size:
Dress size:
Handiness: Lefty
Body feature:



***NOTE: Do not bother to request Cameron Daiz , Jennifer Lopez, Selma Hayek, Selema Blair, or Angelina Jolie as I do not find them beautiful. You'd only be wasting your time and mine. Thanks.

Boy, that sounds harsh doesn't it? Everyone is BEAUTIFUL in their own way. However, Beauty is also in the eye of the beholder and I don't find them beautiful enough to add to this site. Sorry.

Other Requests Denied: Aaliyah, Amanda Peet, Ananda Lewis, Anna Paquin, Betty Paige, Bridget Fonda, Bridgette Wilson, Celine Dion, Charlotte Ayanna (Charlotte Lopez), Charisma Carpenter, Christy Turlington, Claire Forlani, Courtney Cox, Courtney Thorne Smith, Daphnee Lynn Duplaix, Embeth Davidtz, Erica Shaffer, Faith Evans,Finola Hughes, Gillian Anderson, Heather Locklear, Isabelle Adjani, Jenny Garth, Jessica Simpson, Jill Hennessy, Julia Styles, Julianna Margulies, Kate Winslet, Kelli Williams, Kelly Rae, Keri Russell, Kimora Lee, Kirsty Gallacher, Lara Flynn Boyle, Leah Thompson, Leeza Gibbons, Lisa Kudrow, Maria Grazia Cuccinotta, Marisa Ramirez, Mena Suvari, Mia Sara, Michele Pfeifer, Natasha Henstridge, Nikki Cox, Pamela Anderson Lee, Phoebe Cates, Piper Perabo, Rachel Blanchard, Rachael Weisz , Reece Witherspoon, Rene Zellwegger, Sela Ward, Sharon Stone, Shay Brown, Tammy Lynn Michaels, Tea Leoni, Teri Hatcher, Vanessa Marcil, Vanessa Williams, Victoria Principal, Vivica A. Fox, & Eliza Dushku (oddly, there's some weird appeal there but not enough for this site).
---

MAIN
Disclaimer: The content on this page expresses the opinions of Frederick William Springer III (and him alone) and are not necessarily those of the celebrities therein or their representation. He is in no way related or connected to them (unfortunately). Now, for those of you who actually needed that posted, GET A LIFE!!!
Copyright © 1999-2003, Frederick William Springer III