| | |
| --- | --- |
| | IF YOU WOULD LIKE TO SHOW YOUR APPRECIATION FOR THIS SITE, PLEASE MAKE A DONATION. It'll only take a minute or 2 of your time and it'll encourage me to continue updating this site. Thank you. I'm a poor college student. Violins please.Getting well over 6,000 visitors a year, it would seriously cover the hosting bill if each of you donated as little as a penny! :-) (Though, naturally, you're encouraged to give more :-D ) |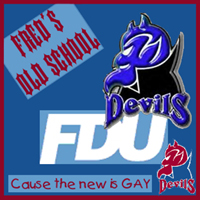 ---
3D COMPUTER ANIMATION
Fall 2001
Unfortunately the file sizes for the animations are too big to put on the site. Instead I'm just posting selected stills.
For our first project we had to model a bean bag, golfball, football, and basketball & then have them all bounce into the scene with the characteristics of the said object.
| | |
| --- | --- |
| | |
| This is the opening scene with all 4. | This a single of the beanbag. Happiest with the modeling job on this one. |
---
3D ENVIRONMENTAL MODELING.
Spring 2002
---
3D PRODUCT & LOGO ANIMATION
Spring 2002
---
3D COMPUTER MODELING
Fall 2000
| | |
| --- | --- |
| As a bonus, I'm throwing in my work freshman year here too. To the right, we had to create a room. (Since you can't make out the finer details in this thumbnail, Natalie Portman is in the picture frame on the table). Below, we had to create an object with multiple parts (I think 8 or 9). I made this cheesy flashlight. Below right, we had to create a landscape for our final project. I decided to go way out there and do a surreal Martian landscape. All projects were to be collected at the same time at the end of the semester, hence all being dated the same. | |
| | |
---
         

---
Disclaimer: The content on this page expresses the opinions of Frederick William Springer III (and him alone) and are not necessarily those of the institution or people therein. Now, for those of you who actually needed that posted, GET A LIFE!!!
Copyright © 1999-2003, Frederick William Springer III